Registrations are open for Samsung Solve for Tomorrow Competition 2022. The last date of registration is 31 July.
About
Do you want to innovate for a brighter future? Do you want to solve real-world problems when it comes to education, environment, healthcare, and agriculture? Samsung Solve for Tomorrow gives you the opportunity to make a difference to our society.
All it takes is an idea, the passion to follow through, and the desire to drive change. Come, bring your idea to life with support from Samsung and FIIT, IIT-Delhi mentors.
Samsung's latest education and innovation competition Solve for Tomorrow is teaming up with India's youth power to bring in the transformations that India needs today, strengthening our vision of Powering Digital India.
Solve for Tomorrow, a Samsung citizenship initiative, is inviting India's brightest young minds to come up with innovative ideas that can transform the lives of people and communities around them.
Themes
The competition is inviting ideas in the areas of Education, Environment, Healthcare and Agriculture, the priority UN Sustainable Development Goals for India.
Eligibility
The inaugural edition of Solve for Tomorrow aims to provide support to youth in India aged 16-22 years from across cities, towns and villages to turn their ideas into action.
Prizes
Support will include mentoring of the top 50 teams (individuals or teams of up to 3 members) by industry experts and Foundation for Innovation and Technology Transfer (FITT) at Indian Institute of Technology, Delhi (IIT Delhi) to help enhance their ideas, along with a boot-camp at IIT Delhi, a certificate of participation, and vouchers worth INR 100,000 for online courses in design thinking, STEM, innovation, leadership, among others. The top 10 teams will get the opportunity to visit Samsung India offices, its R&D centres and Samsung Opera House in Bengaluru where they will interact with young Samsung employees and researchers.
The annual program will end with the grand announcement of three national winners, who stand a chance to get mega support of up to INR 1 crore and mentoring support for six months to take their ideas to the next level under the expert guidance of IIT Delhi.
Important dates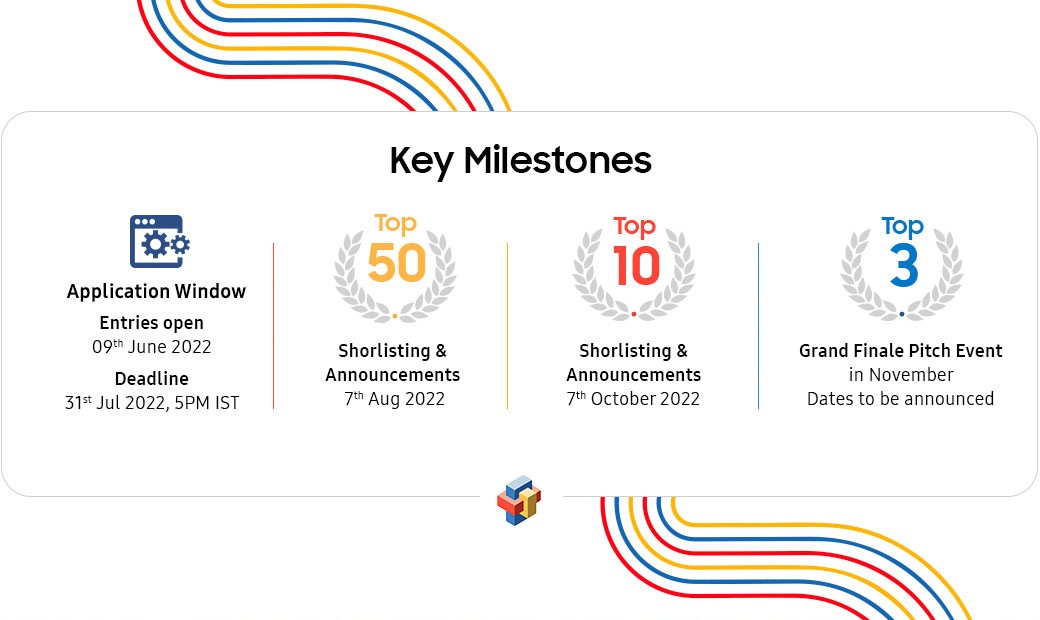 Registration
Interested candidates can register for the competition via this page.
---
You may also be interested in: