The International Institute of Information Technology Bangalore (IIIT Bangalore) invites you to be a part of an interdisciplinary Master's Program in Digital Society.
About the IIIT Bangalore
The International/Indian Institute of Information Technology, Bangalore is a research university in Bangalore, India. The institute is a registered not-for-profit society funded jointly by the Government of Karnataka and the IT industry under a public-private partnership model.
About the M.Sc. (Digital Society) Program
The two-year program is a blend of topics drawn from information technology and social sciences. It trains new-age professionals to design, deploy and develop digital technologies for diverse populations across domains like governance, healthcare, education, infrastructures, media to name a few.
Learning Outcomes
In our efforts to create an equitable and inclusive digital society, our graduates will be able to,
Identify the needs of the diverse users of ICT in different social and industrial contexts
Understand technological possibilities and their potential to solve the problems
Design solutions for the optimal adoption by heterogeneous user segments
Examine digital technology and the complex ways in which it shapes society, social institutions, and culture
Visualize macro-level needs and design scalable technology to cater to large user segments in different contexts
Analyze intricate relationships and practical choices at the intersection of technical design, policy frameworks, and ethics
Who is this Programme For?
If you believe in building a career in technology that impacts society, this program is tailor-made just for you.
Curriculum Structure
Preparatory Term (2 weeks):
This two-week orientation will consist of a series of sessions, including lectures, readings, and audio-visual media to expose students to the foundational logic of the programme and its interdisciplinary underpinnings.
Technical Foundations (to cover programming and database fundamentals)
Social Science Foundations (to cover some fundamental ideas in social science, reading comprehension and writing practice)
Semester 1 (18 credits, 5 core courses)
Digital components of a connected society (4 credits)
Application development for a connected society, OR, Enterprise software development (2 credits)
Qualitative research methods (4 credits)
Quantitative data analysis for public policy (4 credits)
Technology and society (4 credits)
Semester 2 (16 credits, 4 core courses)
Technology in development (4 credits)
ICT Policy and regulation (4 credits)
Social complexity and systems thinking (4 credits)
Human computer interaction (4 credits)
Elective 1 (Optional)
Some electives offered in this term include:
Digital sociology
Techno-economics of networks
Dynamics of the Information Technology industry
News literacies in a digital society
Semester 3 (16 credits, 4 electives)
Some electives offered as part of the programme are:
Advanced qualitative research methods
Cyberspace, globalization and location
Digital platforms: Technology and business components
Technology Ethics and Artificial Intelligence
Geographical Information Systems (GIS)
An Introduction to Accessibility in the Global South
Privacy in the digital age
Social media communication
Advanced Topics in Human Computer Interaction
The Web and the mind
Software Product Management
Semester 4 (16 credits Thesis/Internship)
In the final term, students will be required to either: (a) work on a Master's thesis to hone their research skills; OR (b) undertake an internship to further sharpen their professional skills by applying the learnings from courses undertaken during the previous terms – this could involve working on a project within their parent organizations
Specialisations Offered:
Human-centred digital design
Data intensive digital design
Research and policy studies
​All core courses are required for all three specialization tracks. Electives required are as follows: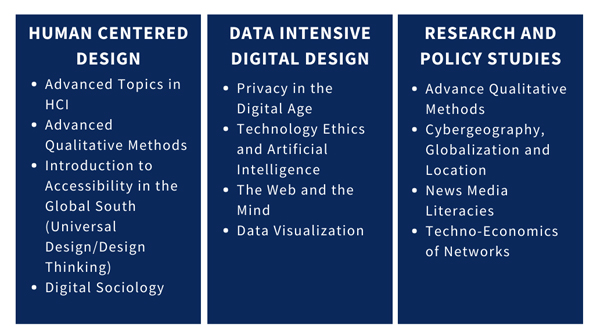 Eligibility
An undergraduate degree (of at least 3 years duration) in any discipline (including arts, science, commerce, design, management, law, engineering, etc.) with a first division/class from a recognized University. Those expecting to graduate by 1st August 2022 may also apply.
The candidates who have a valid score in CAT 2021, CEED 2022, CUCET 2022, or TISS NET 2022 may be exempted from appearing for a written test at IIIT Bangalore.
Working professionals are also encouraged to apply.
Tuition Fee
The tuition fee is Rs. 1,92,000/- per semester.
General Scholarships: A limited number of scholarships of up to 50% tuition fee waiver will be made available on merit cum means basis at the time of admission.
Tridib Roy Chowdhury Scholarship is being endowed to extend a 100% tuition waiver, for a year, to an entering M.Sc. (Digital Society) student. This scholarship will apply a merit-cum-means criterion, with preference to a woman applicant. The candidate will be identified by the Admissions Committee of the M.Sc. programme.
International Applicants:
International students to be admitted in the academic year 2022-23 will have to pay a tuition fee of US$ 10,000 per year (at the rate of US$ 5,000 per semester). The tuition fee is periodically revised and such revisions are announced before the start of every academic year.
In addition, admitted students who stay on campus in the student hostels, pay approximately US$ 1,200 per year towards hostel charges and approximately US$ 1,000 per year for food. The Institute reserves the right to change these rates periodically. A medical insurance premium (with coverage applicable only during stay in India) at actuals (approximately, US$ 25 per year) will also be payable
How to Apply?
Candidates can apply online here.
Note: The portal works best on IE/Chrome/Firefox accessed through the desktop.
Important Dates
15th March 2022: Admissions Open
25th May 2022: Last date for submitting online applications
4th June 2022: Written test will be conducted online for candidates without a valid score in CAT 2021, CEED 2022, CUCET 2022 or TISS NET 2022.
5th-6th June 2022: Personal interviews through video calling application for shortlisted candidates with a valid score from IIITB Entrance exam or from any of the following examination: CAT 2021, CEED 2022, CUCET 2022 or TISS NET 2022.
15th June 2022: Release of first list of selected candidates (additional lists may be released if required)
Offer acceptance and payment of fees: As noted in the offer letter
8th July 2022: Registrations for the new batch at the IIIT Bangalore campus
11th July – 30th July 2022: Program orientation sessions
1st August 2022: Semester 1 classes begin
Contact
For further details and queries, do write to the Programme Coordinator, M.Sc. (Digital Society) at admission-ds[at]iiitb.ac.in.